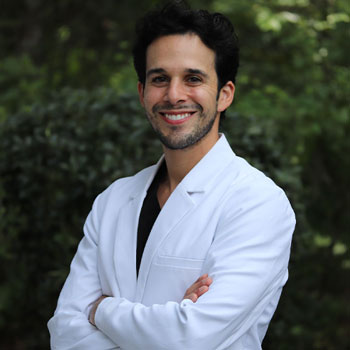 As an orthodontic specialist, my mission and purpose is to play a role in enabling others to be able to chase and achieve their dreams with confidence by building the smile of their dreams. It is extremely rewarding to be able to interact with so many unique people and watch their transformations as their smiles change.
Orthodontics is such a powerful tool because our treatment not only can straighten teeth, but also improve our patients' facial appearance and aging process. I enjoy educating patients on the benefits of orthodontics and the ability to transform not only their teeth, smile, and face, but their confidence and self-image as well.
Education and Experience
Bachelor of Science in biology – Muhlenberg College
Doctorate of Dental Medicine – University of Connecticut School of Dental Medicine
General practice residency – St. Luke's Hospital
Orthodontics and dentofacial orthopaedics – Rutgers University
Master of Science in dental science – Rutgers University
When I was growing up, my mom was a nurse and dad a social worker, and a service profession was always something I wanted to pursue. I became interested in healthcare in high school and shadowed many different healthcare providers in action. I found that I loved the orthodontist's ability to treat people of all ages and help them improve their smiles and confidence.
My educational journey took me to Muhlenberg College, where I studied biology for four years and competed on the track and field team. Next, I spent four years at the University of Connecticut for my dental education. At this time, my interest in orthodontics led to me publishing research in 3D imaging in orthodontics.
After dental school, I spent one year at St. Luke's Hospital to gain advanced training in all specialties of dental care. I went to Rutgers University in New Jersey for a three-year orthodontic residency known for its intensive clinical training, and I completed a certificate in orthodontics and a master's degree for my thesis on 3D printing in orthodontics. This commitment to education ensures I am able to provide the best care for my patients.
Continuing Education
Lifelong learning and continuing education are of utmost importance to me. I am a member of numerous orthodontic study clubs, where I am able to learn new techniques and discuss experiences with my colleagues.
I have completed the most comprehensive training in Invisalign® clear aligner treatment, "The Aligner Intensive Fellowship," a 17-week course on all things aligner treatment. I enjoy taking courses on new and emerging areas of orthodontics, as well as attending local and national orthodontic meetings.
Keeping up with the latest technologies and constantly refining my skills through advanced training and discussion with colleagues enables me to offer my patients a variety of methods to improve their smile and appearance, in a way that is comfortable and fits with their lifestyle. The advances in orthodontics, even in the last ten years are amazing!
Treatment can often be completed faster and more efficiently, and in a way that is more comfortable to the patient than orthodontics years ago. More importantly, it can be done with even more impressive smile results.
Professional Memberships
American Association of Orthodontists
American Dental Association
Florida Dental Association
Hernando County Dental Society