November 15th, 2023
Age: 12.5
Treatment Duration: 28 months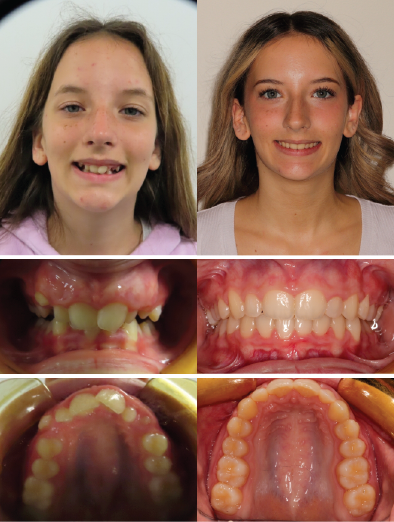 Before Treatment:
This patient came to our office looking to improve the crowding of her teeth. Before treatment she had a narrow smile, severe overbite, severe crowding, class 2 bite (when the upper jaw and/or teeth are ahead of the bottom jaw and/or teeth), narrow arches, and peg lateral on upper left.
Treatment Journey:
Our patients treatment plan involved upper and lower braces,the use of rubber bands, and restorative treatment of the peg lateral, by the talented Dr. Pichardo at Citrus Dental of Inverness. Treatment for this case took just over 2 years.
After Treatment:
In this amazing transformation we were able to correct all of the pre-existing orthodontic concerns, improving the overbite, correcting the class 2 to a class 1 proper bite, eliminating the crowding, aligning the midlines, and widening and broadening the smile. The shape of the peg lateral incisor was improved through a wonderful restoration by the patient's general dentist.
This case shows an amazing transformation and teamwork between myself as the orthodontist, the patient who did an amazing job wearing rubber bands, and the general dentist to restore an undersized tooth.
Orthodontics can not only play a pivotal role in optimizing both oral health and functional well-being, but more importantly can elevate one's self-confidence. Our practice is committed to serving patients of all ages and embraces the belief that it's never too late to embark on the journey to your dream smile.
We invite you and your family to reach out to our office to schedule a complimentary consultation. Allow me the privilege of discussing the orthodontic solutions tailored to your unique needs. Your journey to your dream smile begins with an orthodontic specialist!
Dr. Strouse